7UP Biscuits | Cookies and Cups
These buttery homemade 7UP Biscuits only need 4 ingredients! Made with Bisquick and the delicious tanginess of sour cream, these tender biscuits are a delicious and easy side to serve warm from the oven, smothered in butter or jam. 
If you don't have 7UP try my Butter Swim Biscuit Recipe.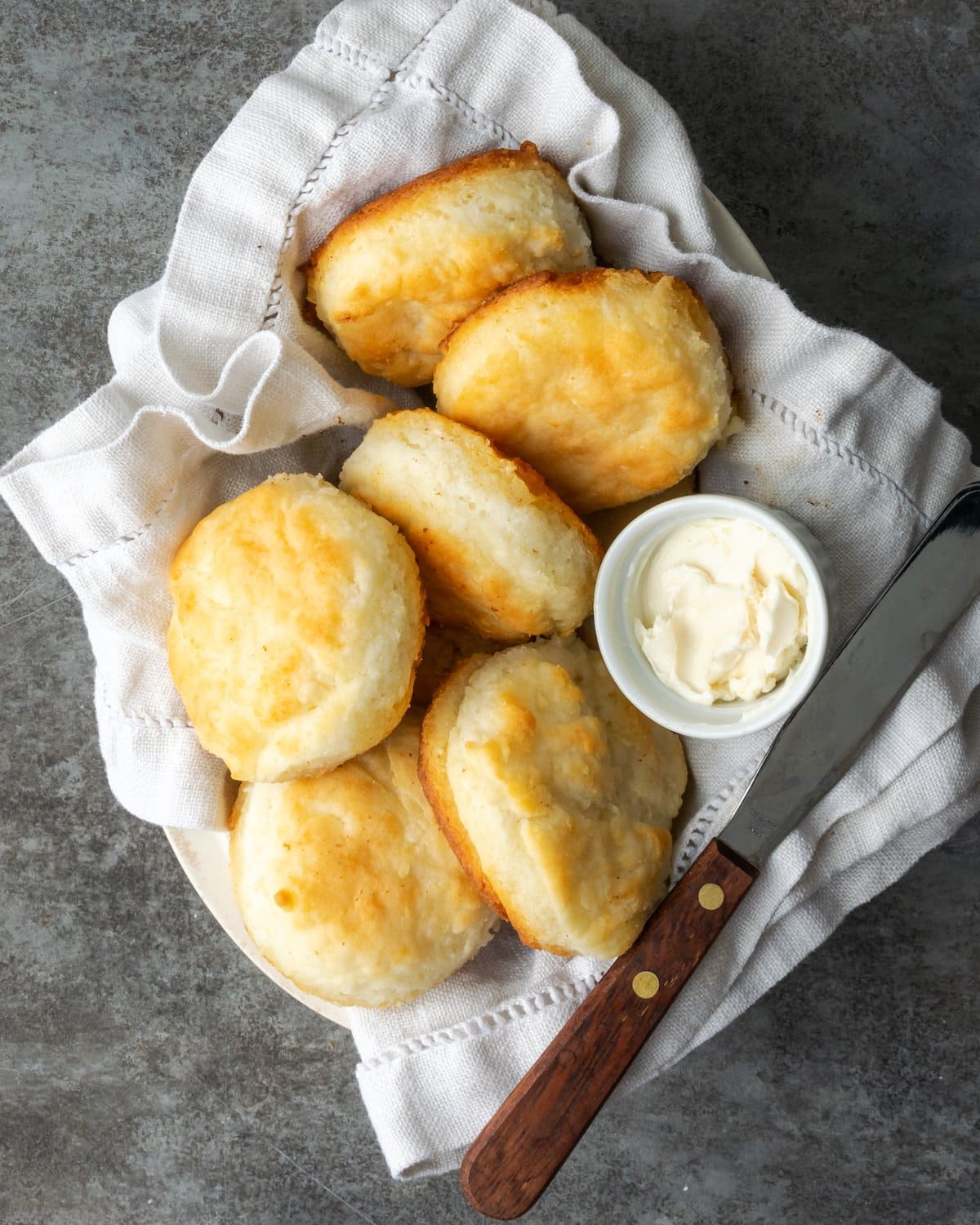 Tender Homemade 7UP Biscuits
We may or may not be slightly obsessed with biscuits in this household. From my all-time best Skillet Biscuits to insanely light and fluffy Angel Biscuits, to these savory Cheddar Bay Biscuits, there are a few biscuit recipes floating around this blog. I love them all and make them often. 
The latest recipe to hit my weekly rotation is this one for the most incredible 7UP biscuits! Light, fluffy, airy, tender, moist – insert appropriate adjective for AWESOME – plus, a hint of sweetness. All of the above describes these scrumptious 7UP biscuits. One whiff of these as they came out of the oven and I knew I was in for something special. Serve these biscuits warm and buttered up after they're baked, drench them with stews and chilis, or turn them into your favorite recipe for biscuits and gravy. Any way you slice them, you won't be disappointed!
Why Use 7UP in Biscuits?
Because it's carbonated, 7UP takes the place of other leavening agents in baking. Instead of baking soda or baking powder, the carbonation in the soda helps these biscuits rise and puff up as they bake. The result is a biscuit with a delicious fine crumb and moist, light texture!
To see 7UP in action in another easy baking idea, check out my recipe for 7UP Cake.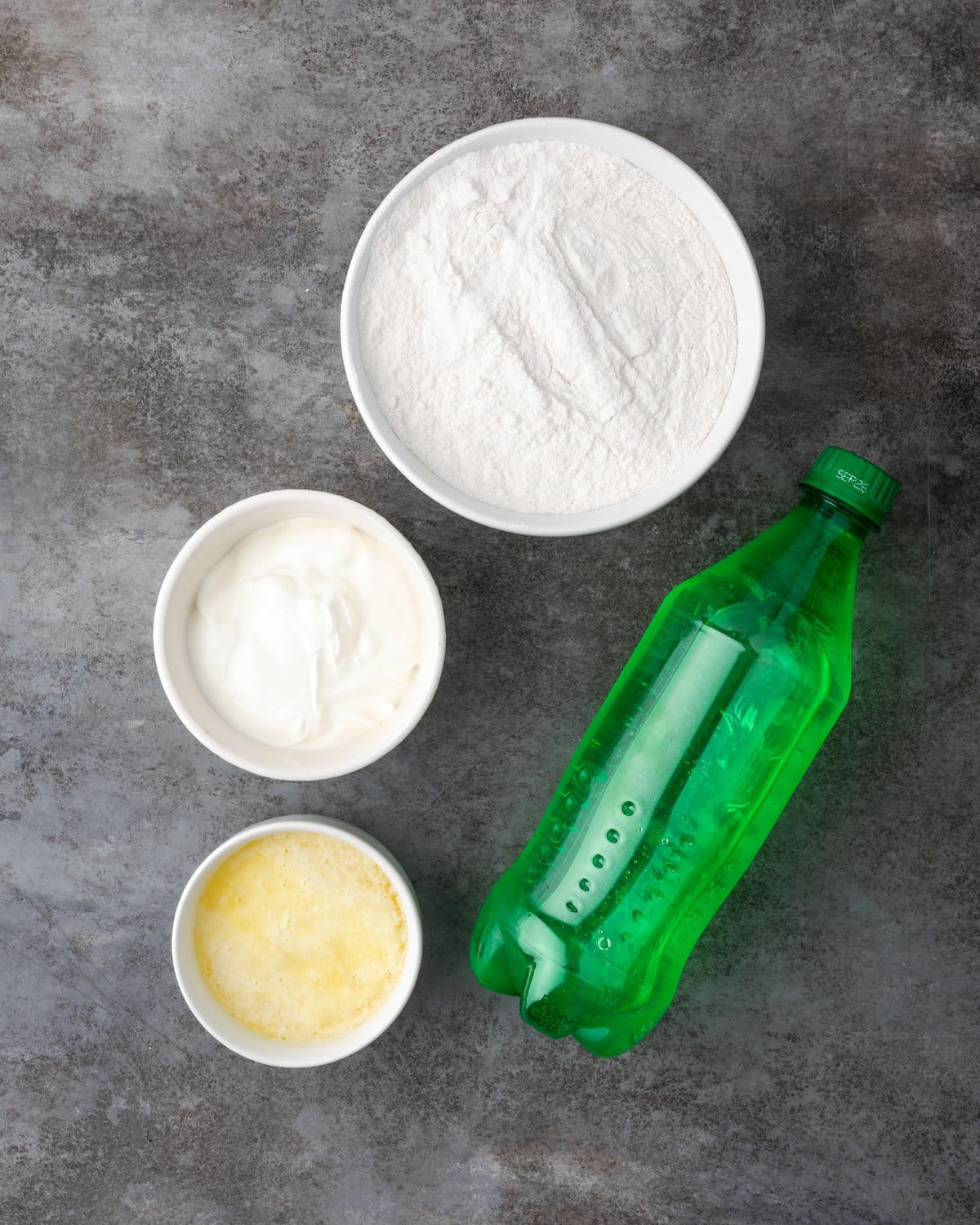 Recipe Ingredients
These are basically 3-ingredient biscuits, with the addition of 7UP to get them nice and fluffy! Below is an overview of the ingredients, and be sure to have a little scroll down to the recipe card for the full amounts:
Bisquick: Yes, these are Bisquick biscuits! If you've never baked with Bisquick before, this is sort of the biscuit equivalent of a boxed cake mix. It's a "shortcut ingredient," made from a blend of flour, salt, leavening, and fat. If you don't have it handy, you can make your own! See the tips section below for more details.
Sour Cream: This recipe brings sour cream into the mix for added moisture and tang. 
7UP: Even though these are called 7UP biscuits, this recipe will work with Sprite or any other clear, highly carbonated soda. 
Butter: These biscuits are baked in a pool of butter. You read that right! They're sort of halfway to a swim biscuit, and by the time the dough bakes up you're left with an exceptionally buttery, flaky texture.  
How to Make 7Up Biscuits
It doesn't take long to have a batch of these 7UP biscuits on the table. Just one more reason to love 'em! The recipe comes together in a flash: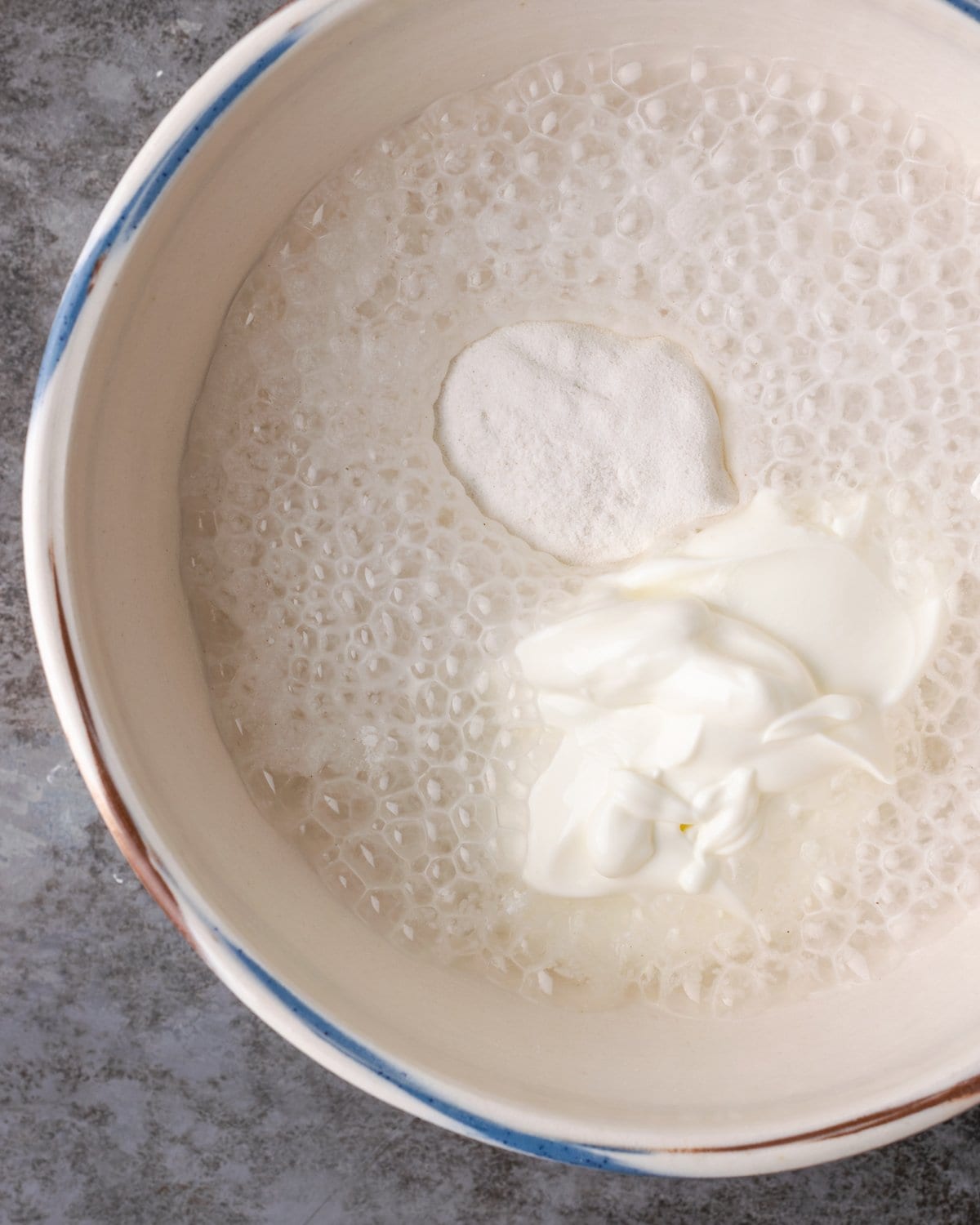 Combine the Ingredients: To make your biscuit dough, combine Bisquick with sour cream and 7UP in a large bowl. Give it a mix until the ingredients are just combined.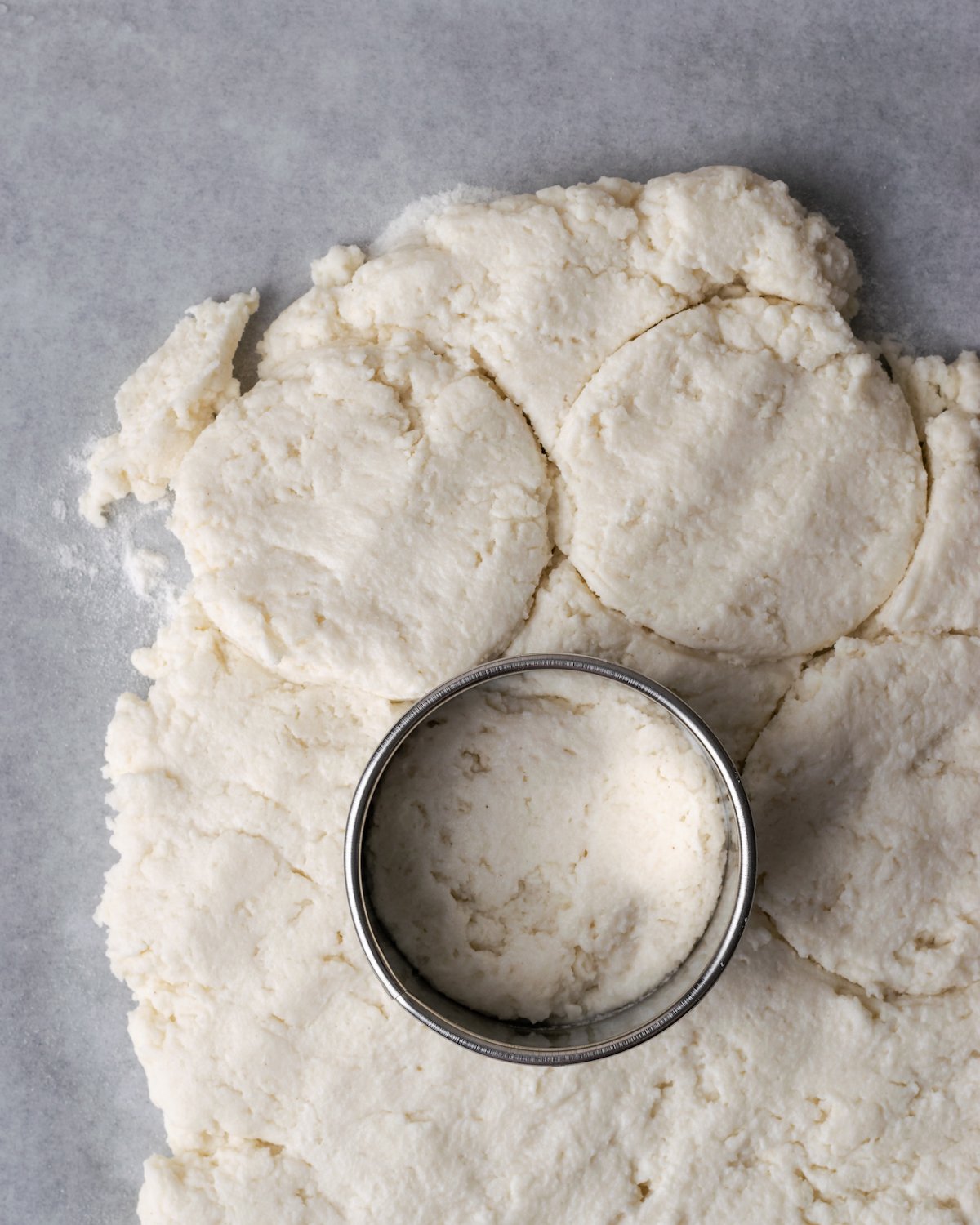 Cut Out the Dough: Give a clean, flat work surface a light dusting with more Bisquick. Next, press the biscuit dough out to about a half-inch in thickness. Use a biscuit cutter or a knife to cut 8 biscuits from the dough.
Prepare the Pan: Dump a bit of melted butter into a 9×9-inch baking pan. Arrange the biscuits in a single layer right on top of the butter. 
Bake: Pop those buttery beauties into a 450ºF oven for about 10 minutes or so, until they're golden. Right as you take them out, brush the biscuits with more melted butter. Voilà! Serve them warm and prepare to swoon. See below for easy serving suggestions!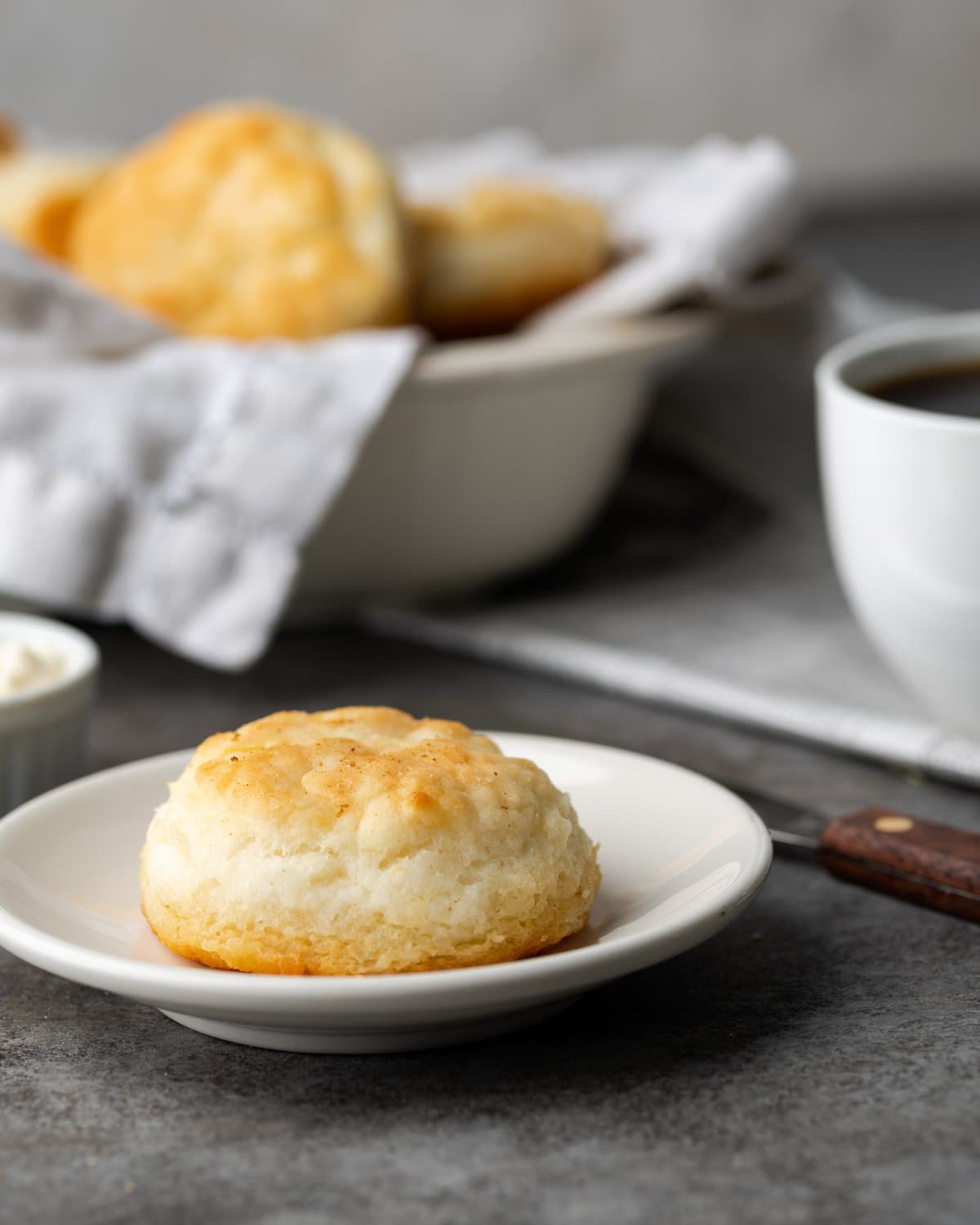 Tips for the Best Biscuits
This recipe is awesome mainly because it's so darn easy! Here are some extra tips to ensure that your biscuits will turn out the picture of perfection:
Swap Out the Soda: If you don't have 7UP in the fridge, you're welcome to use any clear soda for this recipe. Sprite will also do the trick!
If You Don't Have Bisquick: Don't panic. Make your own with an easy mix of pantry staples! Sift together 2 cups of all-purpose flour with 3 teaspoons baking powder, and ½ teaspoon kosher salt. Cut in 2 tablespoons of room temperature butter or shortening, making sure the flour is well coated. Tada! Homemade bisquick, no sweat.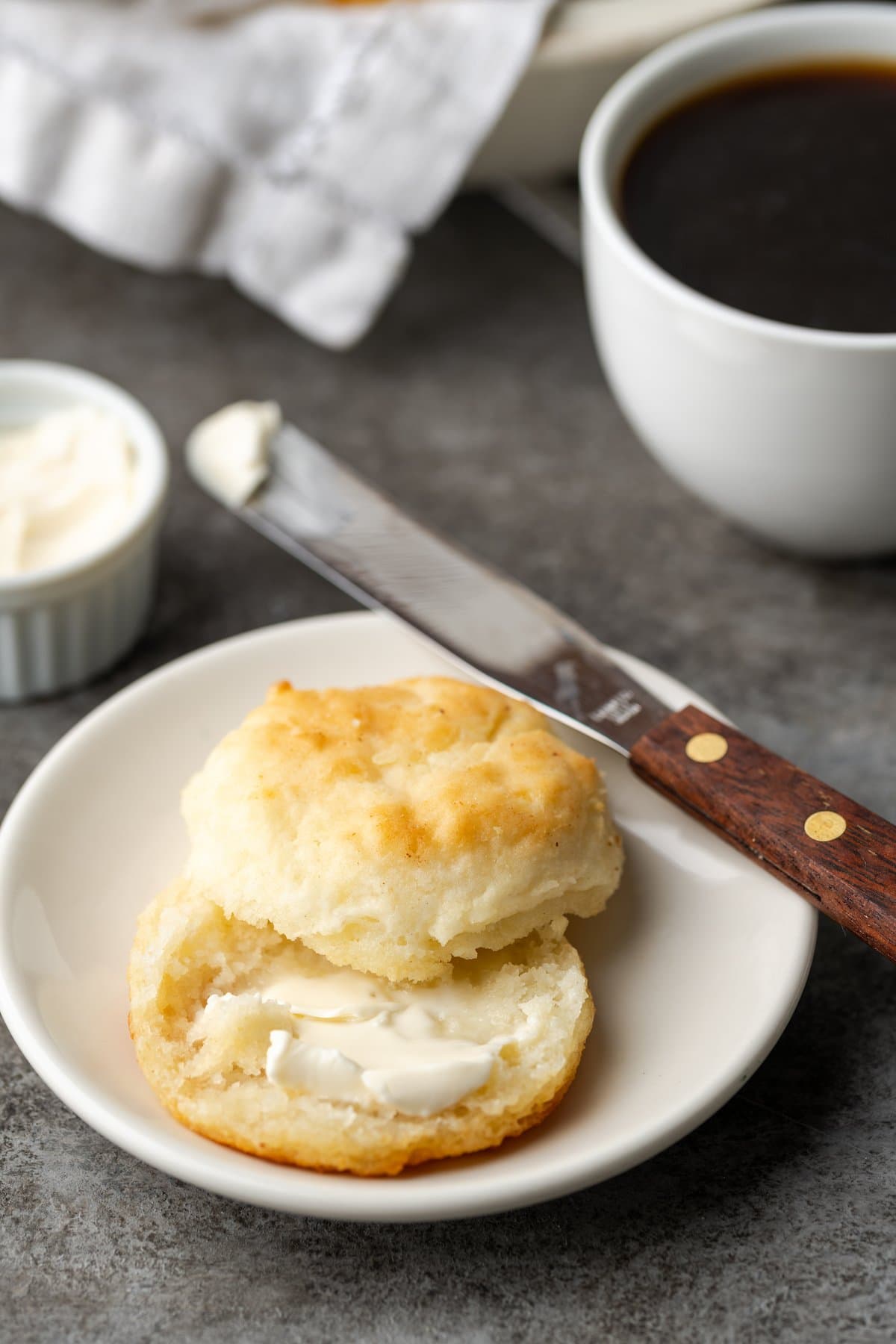 Serving Suggestions
Breakfast, brunch, lunch, or dinner, these 7UP biscuits make the best stand-alone treat or easy side dish. Freshly baked from the oven, you can't beat a tender 7UP biscuit smothered in butter or jam, or drizzled with honey. Next to a cup of coffee, it's my breakfast of dreams!
As a simple side dish, pair your biscuits with any of the following dinner ideas:
You can also use these biscuits in all your favorite biscuit-centric recipes! Transform your 7UP biscuits into biscuits and gravy, make them into breakfast sandwiches, or fill them with ingredients like chicken parm or cheeseburger fixings for easy biscuit sliders.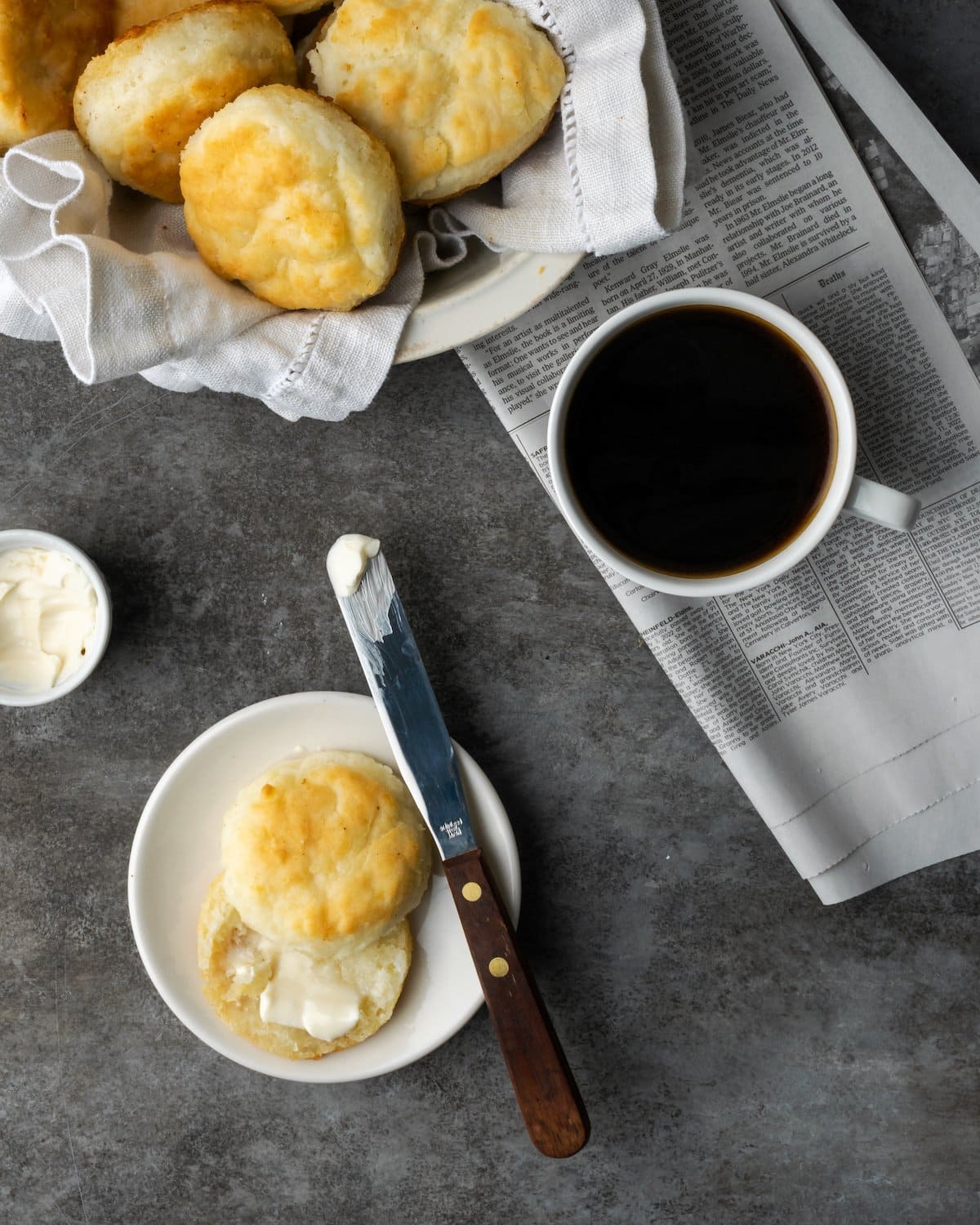 How to Store 
These 7UP biscuits will keep at room temperature for up to 2 days. Seal them inside a resealable bag or airitight container on the countertop so that they maintain the most freshness. Biscuits can also be kept in the fridge for an extra day or two, though the texture won't be quite as crisp and fluffy. However, something tells me you won't have any issues finishing a batch of these biscuits before then!
You can also freeze your biscuits airtight for up to 30 days. Thaw them at room temperature before serving, and see below for reheating tips.
The Best Way to Reheat Biscuits
The best way to reheat homemade biscuits is to pop them back into the oven! Line a baking sheet with parchment paper and place the biscuits onto the sheet and into the oven at 350ºF. Reheat them for about 5 minutes, or until warmed through.
Print
---
Description
These buttery homemade 7UP Biscuits only need 4 ingredients! Soft and tender Bisquick biscuits are a delicious and easy side to serve warm from the oven, smothered in butter or jam.
---
2 1/3 cups

Bisquick, plus 1 tablespoon to dust countertop

1/2 cup

sour cream

1/2 cup

7Up (you can use Sprite as well, see note)

1/4 cup

butter, melted

2 tablespoons

butter, melted
---
Preheat the oven to 450°F.
In a large bowl, combine 2 1/3 cups of Bisquick, sour cream, and 7UP. Mix until just combined.
Dust a clean countertop with the remaining 1 tablespoon of Bisquick. Transfer dough to the countertop and press out into a 1- inch thick circle. Using a 3- inch round biscuit cutter (or knife), cut the dough into 8 biscuits.
Pour 1/4 cup melted butter into the bottom of a 9×9 pan. Place biscuits into the pan directly into the melted butter.
Bake for 10 minutes, or until golden brown. Brush with the remaining 2 tablespoons of melted butter.
Serve warm.
---
Notes
You can use any clear soda for this recipe.
Keywords: biscuits with 7up, bisquick biscuit recipe, homemade biscuits
Want To Save This Recipe?
Find more recipes like this:
More Bready Sides to Try
PIN for later: