Cap'n Crunch Is Releasing Ocean Blue Maple Syrup That Will Brighten Up Any Pancake Stack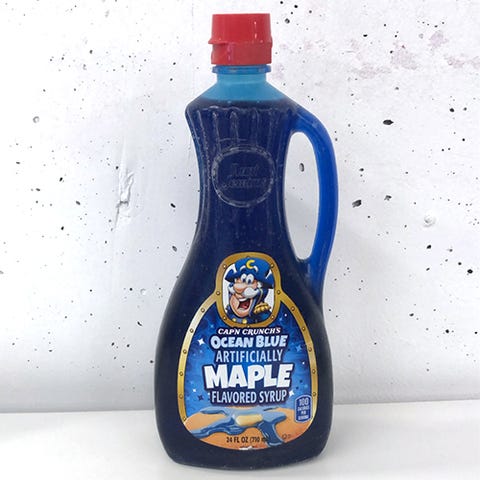 Best Products/Caitlyn Fitzpatrick
We should have known that Cap'n Crunch wouldn't leave us hanging with its new Berrytastic Pancake Mix! In addition to cereal-filled pancakes, we can get Cap'n Crunch's Ocean Blue Maple Flavored Syrup.
Just like with the Berrytastic Pancake Mix, the syrup is the work of two The Quaker Oats Company brands, Capn' Crunch and Aunt Jemima. The bright blue syrup will certainly make your stack even more fun to eat for breakfast! However, although it's a cool color, it tastes like traditional Aunt Jemima maple syrup.
You'll be able to find the 24-ounce bottle at Walmart stores across the country starting later this March, a PR rep confirmed to Best Products. The sweet pancake topping will make eating brunch at home a whole lot more appealing.
Since we're talking about Cap'n Crunch, you need to know about how the cereal brand is entering the snack game! In June 2020, you'll begin seeing Smartfood Cap'n Crunch's Crunch Berries Popcorn Mix on shelves. Prepare for quite the sweet and salty combination!