Chips Ahoy!'s New Hershey's Cookies Have Chunks Of Milk Chocolate Mixed in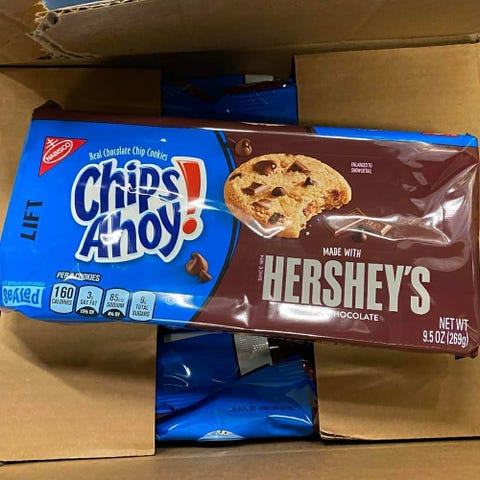 Instagram @fueledbymunchies
Chips Ahoy! is on a roll! Not only did the brand just release cookies filled with Reese's Pieces, but now we can snack on cookies filled with Hershey's milk chocolate.
There were rumors that both of these new cookies would be hitting shelves soon, but now it's official and available!
Typical Chips Ahoy! cookies are filled with chocolate chips — however, the Hershey's ones take it up a notch by adding in milk chocolate chunks. They look like pieces from an actual Hershey's bar, so this is truly a chocolate lover's dream.
Chips Ahoy! announced the new offerings on Instagram on March 10. "All good things come in pairs, but greatness comes with HERSHEY'S Milk Chocolate & mini REESE'S Pieces candy," the caption reads.
The good news is that there is no indication that these are limited-edition. But that doesn't mean you shouldn't run to the store (like Target, where they're on shelves for $2.69), and try them immediately.