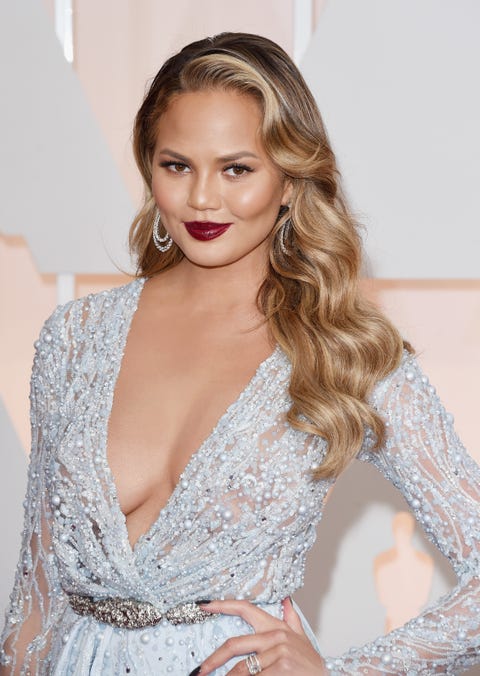 Jason Merritt/TERMGetty Images
Chrissy Teigen revealed she had breast-enhancement surgery when she was 20.
Chrissy says she wants her implants to be removed but is worried about surgery.
---
Chrissy Teigen has opened up about her past plastic surgery in a candid interview with Glamour UK. In the issue, Chrissy reveals that she had breast-enhancement surgery in her early 20s, saying, "Yeah, I did my boobs when I was about 20 years old. It was more for a swimsuit thing. I thought, if I'm going to be posing, laid on my back, I want them to be perky! But then you have babies and they fill up with milk and deflate, and now I am screwed."
She added, "Honestly, I kept them the same cup size. I just filled them out, so they are rounder and firmer. I had a quarter 'teardrop' cup in the bottom and filled out the breast line."
Apparently, the supermodel and cookbook author is ready to get her implants removed, but surgery makes her nervous. "I want them out now," she said. "If I could do one thing, it would be to have a lift. I think you're supposed to replace [implants] every 10 years. But when you have kids, you think about [the risks] of surgery and I think, This is not the way I want to die, in boob surgery."
Chrissy explained that she wants to be up-front about her procedures because "you can't set these expectations for people that everything is perfect. Everyone filters their sh*t, edits, or Facetunes so you forget what normal faces or bodies look like. It's not fair and it makes you jealous of other people's bodies. It's lying to people by omission. But also, while you want to teach your kids to be comfortable in their own skin, you want to tell them everything you can and let them decide."
Damn, just when I thought I couldn't love her more.