Lockdown Recipes: 5 Quick Fried Snacks You Can Make At Home
There are very few chances of going wrong with fried foods; this is why each time you have to rustle up something yummy and indulgent, you are instinctively drawn towards all things greasy. It is true that consuming excess amounts of fried goods may wreak havoc on your health, but it is okay to give into your cravings once in a while, provided you practice portion control and moderation. In this period of lockdown, when you are spending most of your time indoors, it could be a good idea to step into your kitchen and make something quick and appetizing to appease your cravings.
Here Are 5 Quick Fried Snacks You Can Try At Home:
1. Chicken popcorn
This scrummy and crunchy snack is super easy to put together and an absolute crowd-favourite. Dunk in some chicken chunks in a spicy batter, deep-fry until golden brown and munch on.
(Also Read: Lockdown Recipe: How To Make Restaurant-Style Chicken Chow Mein)
2. Bread poha
Poha is a quintessential Indian breakfast, often made with flattened rice and seasoned with select herbs and spices. If you don't have flattened rice at home, no problem; you can fry some bread chunks with peas, mustard seeds, red chilly powder, peanuts and more. Garnish with fresh coriander and you are good to go!
3. Fried onion rings
Fried onion rings make for a tempting snack at any point of the day. If you are planning a movie night with your family, this could be an ideal snack to be served. You can serve it with sour cream dip or regular ketchup or mayonnaise.
(Also Read: Watch: How To Make Onion Chutney To Liven Up Your Meals (Recipe Video Inside)
Fried onion rings make for a tempting snack
4. Honey-chilly potato
The Indo-Chinese snack is extremely easy to make at home. You may never feel the need to order-in, once you prepare it yourself. These saucy and scrumptious fried potatoes are a hit across age groups.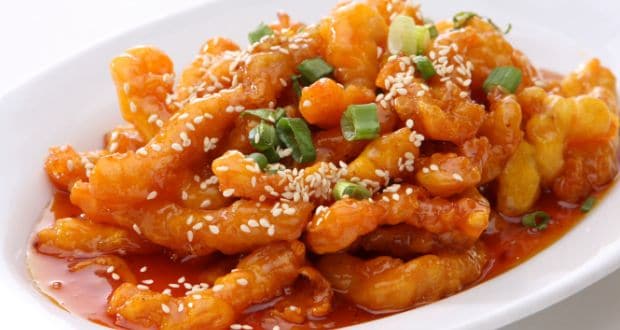 The Indo-Chinese snack is extremely easy to make at home.
5. Paneer Pakoda
You saw this coming, didn't you? Think greasy and you are bound to think pakodas. Slices of fresh paneer, dipped in besan batter and fried till golden. Serve it piping hot with the side of fresh dhaniya or pudina chutney. There, we saw you slurping!
Try making these snacks at home and let us know how you liked it in the comments below. We would love to hear your thoughts on the same. Do stay tuned for more interesting recipes, kitchen hacks and trivia.
About Sushmita SenguptaSharing a strong penchant for food, Sushmita loves all things good, cheesy and greasy. Her other favourite pastime activities other than discussing food includes, reading, watching movies and binge-watching TV shows.