Pringles Has New Chicken & Waffles Chips That Combine Sweet And Savory Flavors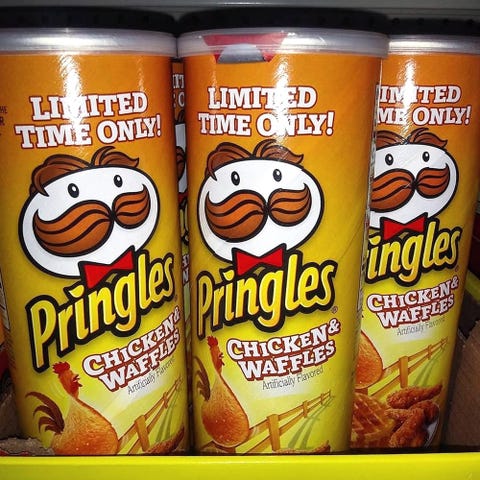 Instagram @candyhunting via @rockgirlmaxim84
Pringles has come out with some pretty interesting flavors in the past. Who remembers that Top Ramen Chicken chips?! The brand's snacking experts have a new flavor that is also a whole meal in a chip. Say hello to Chicken & Waffles!
The newest addition to the Pringles line-up began getting spotted at Dollar General this week. As seen on the sign posted by @carbconnoissuer, the flavor is exclusive to the wallet-friendly variety store. The packaging indicates that the chips are limited-edition, so hopefully you have a Dollar General in your area.
The Instagram account @carbconnoissuer tried the chips and said that "there is a very faint smell of maple syrup, and they have a very dull chicken flavor to them." That might be a good thing if you're worried about how chicken will taste in a crunchy chip.
Earlier this month, Lay's announced that it had brought back its Chicken & Waffles chips exclusively at Kroger. Maybe chip companies got together and decided that April would be the perfect month to give us chicken-and-waffles-flavored snacks? Or maybe great minds really do think alike? We're just happy that it happened this way, because it means we can snag both limited-edition chips and have a taste test. Hey, it's for research purposes …
Dollar General has become quite the go-to place for exclusive treats. Just this year, the chain got the exclusives on M&M's Orange Vanilla Creme candies and Dunkin's Mint Chocolate Iced Coffee bottles. But just like those M&M's, the Pringles Chicken & Waffles flavor will only be around for a limited time. You know what to do from here.