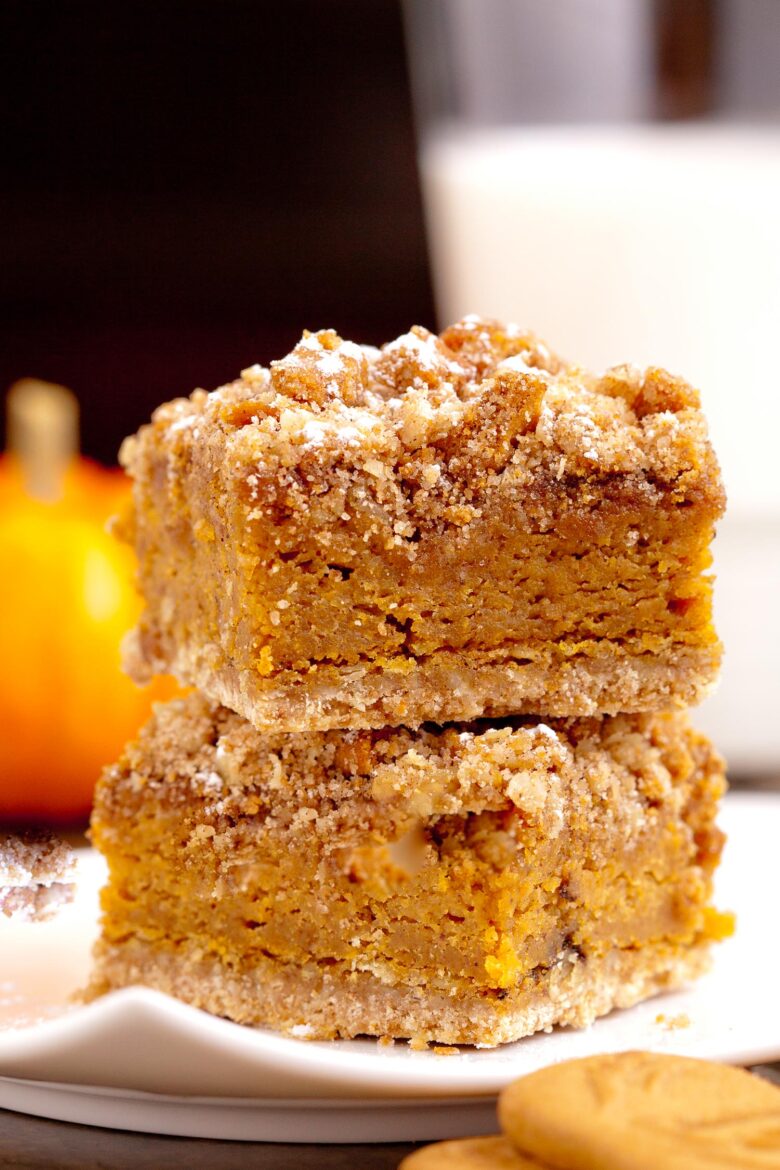 Pumpkin Pie Bars vs Pumpkin Pie 
Of course, we're huge fans of pumpkin pie. However, in our opinion, it's even better in bar form. It's a bold claim, we know, but hear us out. These bars are:
Handheld and convenient, making them a great option for large gatherings, holiday parties, and everything in between. 
Easily doubled to feed even the hungriest of crowds. 
Combined in one pan so you don't have to spend hours rolling out a pie crust. 
Bursting with warm spices and crunchy Biscoff cookies…enough said!
Pumpkin Pie Bar Key Ingredients
Not your average dessert bar, this pumpkin pie bar recipe is made with three layers for a truly unique texture that will have you hooked with just one bite. Here's what you'll need: 
Wheat flour, all-purpose flour, and quick cooking oats form the base of the crust. Then, they're combined with light brown sugar, softened butter, and chopped pecans for a rich taste and a little extra crunch.
Biscoff cookies and cinnamon are used along with a bit of the prepared crust to form an out-of-this-world topping that all your guests will love. 
Eggs are used to add structure to the pumpkin puree filling, and you can't forget to add the spice! More cinnamon, ground nutmeg, and ginger create an explosion of flavor that just screams fall. 
Baking essentials including baking soda, olive oil, white sugar, and salt, complete this recipe for a dessert that's perfectly tender and moist.
Pro-Tips for Making Pumpkin Pie Bars
Plan ahead. These pumpkin pie bars require a couple of components and about an hour to bake. For the best results, we recommend preparing the filling and crust/topping mixture in advance. That will make baking day super easy!
Use quality pumpkin puree. Choose a good quality pumpkin puree or making your own is guaranteed to provide a bolder pumpkin flavor.
Let them cool. We know it's hard to wait, but allowing these bars enough time to cool and chill is crucial to set the center. Otherwise, they're likely to crumble and fall apart.
Use a sharp knife. For smooth, clean cuts, it's important to use a sharp slicing knife.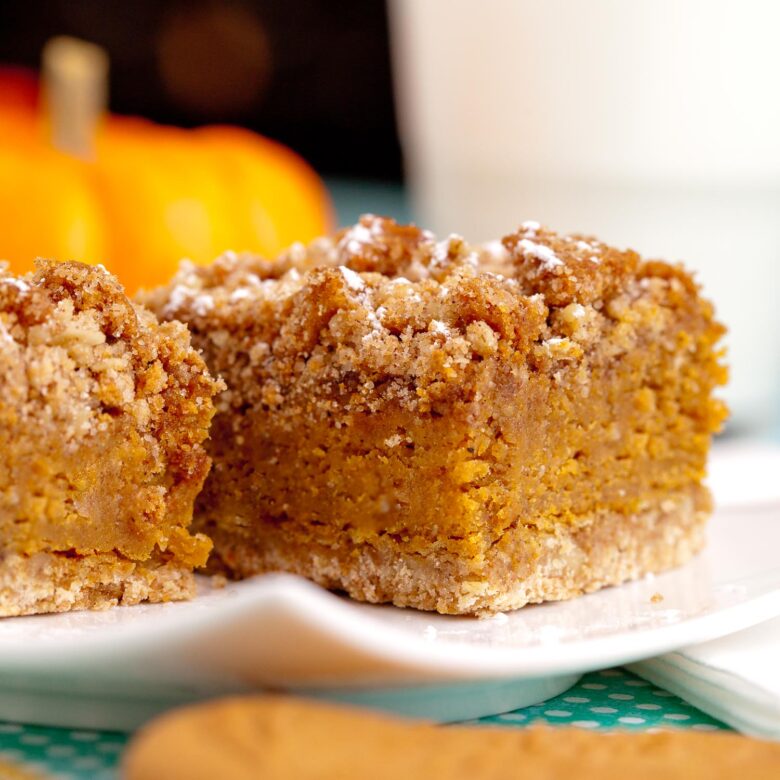 Pumpkin Pie Bars Commonly Asked Questions
How long do pumpkin pie bars last? 
When kept in an airtight container in the fridge, leftovers will stay fresh for up to 3 days.  Be sure to wrap it airtight.
How long can these bars sit out? 
Once cooled, these pumpkin pie bars can be left at room temperature for several hours at moderate room temperature.
Do you have to refrigerate pumpkin pie bars? 
Yes, due to the use of dairy and lack of preservatives found in store-bought pumpkin pies, these homemade bars must be kept in the fridge once baked. 
What's the difference between canned pumpkin puree and pumpkin pie mix? 
Easily confused, canned pumpkin puree and canned pumpkin pie mix are not the same thing. For instance, pumpkin puree is just that; it consists of pureed pumpkin and nothing more. Meanwhile, pumpkin pie mix is made with a base of pumpkin puree that has been flavored with additional spices and sugar. 
---
More to Bake and Eat
Pumpkin Ginger Cupcakes – wonderfully tender, fluffy, and light all at once, these cupcakes are guaranteed to be gone in a flash. 
Pumpkin Pie Coffeecake – half pie, half coffeecake, this recipe features the best of both worlds for a sweet breakfast or tasty treat we adore. 
Mini Pumpkin Churros – speaking of sweet treats, these treats are from Bobby Flay's cookbook release and are the perfect treat for big and little kids alike. 
Pumpkin Pasties (Hand Pies) – inspired by the Wizarding World of Harry Potter, these festive snacks are sure to delight. 
---
---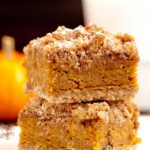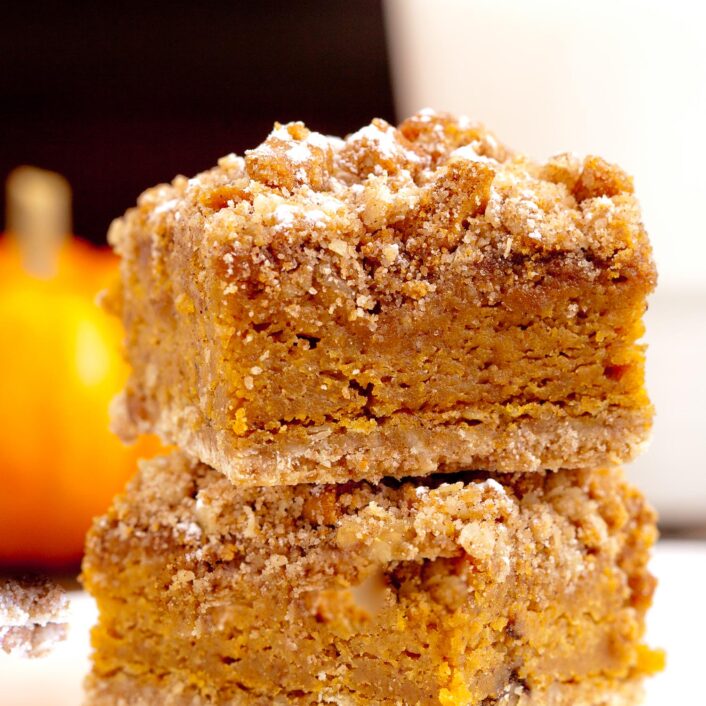 Pumpkin Pie Bars
Easier than baking a whole pie, these pumpkin pie bars are made with a homemade pumpkin filling layered between a flour and pecan crust and a sweet Biscoff crumble topping. They're the ultimate no-fuss dessert for fall!
Servings: 16
Preheat oven to 350F.

In a large bowl, combine both flours, oats, sugar, butter, baking soda, and salt. Beat at low speed until mixture is crumbly. Stir in nuts. Reserve 1 cup for crumb topping. Press remaining mixture on bottom of a greased and floured 13×9 baking pan. Bake 15 minutes on middle rack. Set aside to cool a bit while you make the filling.

In a large bowl, beat together eggs, sugar, butter, oil, and pumpkin until well mixed. In a separate bowl, mix together flour, baking powder, cinnamon, salt, baking soda, nutmeg, and ginger. Fold dry and wet ingredients together until well incorporated. Pour filling onto pre-baked crust.

Mix together 1 cup of reserved crust mixture, 1 cup Biscoff cookies, and cinnamon. Sprinkle on top of pumpkin filling. Bake 30-33 minutes on middle-lower rack. It's done when toothpick comes out mostly clean. (A few tender crumbs attached is perfect.)

Cool and chill before cutting. Once that first piece is out, the rest should be easy. Cut into bars and store in fridge until ready to serve. Sprinkle with powdered sugar, if desired.
Adapted from Biscoff Recipes

If you enjoyed this recipe, please come back and give it a rating ♡
Serving: 1bar | Calories: 375kcal | Carbohydrates: 48g | Protein: 5g | Fat: 20g | Saturated Fat: 10g | Polyunsaturated Fat: 2g | Monounsaturated Fat: 7g | Trans Fat: 1g | Cholesterol: 79mg | Sodium: 318mg | Potassium: 152mg | Fiber: 4g | Sugar: 29g | Vitamin A: 5272IU | Vitamin C: 1mg | Calcium: 64mg | Iron: 3mg
Did you make this?
Leave a comment below and tag @chewoutloud on Instagram