Smirnoff Has a New Hard Seltzer That Has Nearly Double The Alcohol As The Original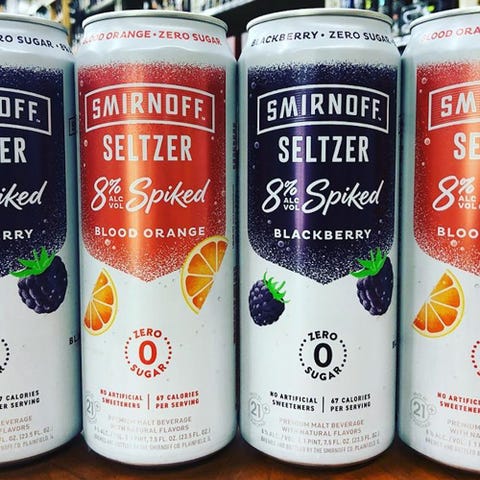 Instagram @paradise_liquor
Smirnoff has been in the hard seltzer game for years now, and it even released a 4 Ways to Rosé line full of fruity flavors. All of the Smirnoff Spiked Sparkling Seltzer cans have 4.5% ABV, so the brand is stepping it up a notch with a boozier seltzer.
Smirnoff Seltzer 8% Spiked is the newest sip in the brand's family. As the name suggests, each 16-ounce can has 8% ABV. Even with that higher-than-normal-alcohol-for-a-hard-seltzer, the drinks have zero sugar and 67 calories per serving. Yeah, we don't know how they do it either, but we're not going to question it.
The new boozy seltzers just launched in two flavors: blood orange and blackberry. The blood orange is described as having "juicy sweet orange character with slight bitter blood orange notes." The blackberry has "sweet blackberry, raspberry aromas with a hint of strawberry and jammy berry flavor." Both sound like they need a spot in our coolers this summer!
Since the drinks are so new, it's unclear if they'll be available in variety packs or single-flavor packs. In our ideal world, it would be both, so keep an eye out on your next liquor store run.
We know that hard seltzers are pretty easy to throw back — that's the beauty of them! But remember that the Smirnoff Seltzer 8% Spiked has more alcohol than the typical canned beverage, so, as always, drink responsibly.