The Limited-Edition IPA That's Lucky Charms-Themed Is Coming Back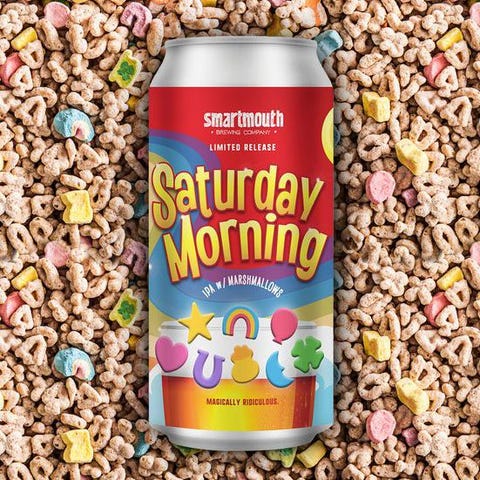 Courtesy of Smartmouth Brewery
UPDATE: April 13, 2020
Smartmouth the brewing company made an IPA last year called "Saturday Morning" that is brewed to taste like Lucky Charms last year. As crazy as it may sound, the beer was so popular that Smartmouth made more that will be available for purchase.
The formula is basically the same as the original Saturday Morning brew, but with some adjustment on the hops. The beer is 6.6% ABV and is described as having a kiwi and sweet cereal taste with bursts of flavors from Meyer lemon, stone fruit, orange Starburst, and white grape. It's still brewed using marshmallows, and is only available at Smartmouth's Virginia locations and surrounding bars and liquor stores.
Original post: February 22, 2019
Virginia-based brewing company Smartmouth is releasing a new IPA that will evoke allll the feelings. Appropriately titled "Saturday Morning," the new release is an ode to those early weekend hours spent parked in front of the TV—PJs on, cartoons playing, and your favorite cereal in hand. Yup, the beer is brewed with Lucky Charms-inspired marshmallows.
The IPA is made from toasted 'mallows and tropical fruity Calypso hops, a spokesperson for the company shared with Delish via email. The 16-ounce cans have a 6.6 percent ABV and come patterned with the same rainbow theme you know and love. Smartmouth even posted a sneak peek of the process to Instagram February 11 with a close-up shot of the marshmallows used for brewing. They captioned the 'gram simply, "🤔🥣" and threw in a few hashtags, including the obvious "#magicallydelicious."
The comment section is flooded with out-of-state beer fans hoping to ship the new beer home, but Smartmouth is unfortunately only available in Virginia. According to the website, the brewery has locations in both Norfolk and Virginia Beach.
The "magically ridiculous" Saturday Morning IPA will make its debut March 2 at the Norfolk facility. The brewery will also be hosting a series of celebratory events to mark the launch including board games, a comic book stand, and a Super Smash Bros. Tournament.
Mark your calendars and hit the road. The brew is landing in local bars and beer aisles SOON.